1) Earth Week events
Celebrate Earth Week 2023 by attending a wide array of Cal Poly Humboldt events hosted by numerous partners! Food, DIY, plants, and more! See the full calendar of activities 
here
. Some featured events: 
Sustainable Transportation Scavenger Hunt. A fun way to get familiar with transportation resources on campus! Win prizes. See the attached flyer. 
Celebration & Social Mixer at Septentrio. April 19. There will be free food and drink tickets available on a first come first served basis, live music, and tents and indoor options to protect from inclement weather. There are no age restrictions for this event.
Ecochallenge.

Ecochallenge is a 21-day digital program that welcomes individuals to have a positive

impact

on the environment through fun challenges that encourage new habits.

Sign up

to participate on team Cal Poly Humboldt and help make a d

ifference. (We are competing against CSU Channel Islands!)
2) Decolonizing Economics Summit: The 4th Annual Post-Capitalism Conference
Thursday, April 20 - Saturday, April 22, 2023. For the last three years, the Post-Capitalism Conference has brought together organizers, academics, leaders, students, workers, artists, and creators to imagine a world beyond ecological, economic, social, and political crises. This year's summit will be virtual with an in-person closing ceremony/Earth Day celebration at Pierson Park in McKinleyville, CA. A full schedule can be found here. Learn more and register at the Decolonizing Economics Summit website. Presentations include:
Non-Reformist Reforms: Public Banking, Worker Coops, Community Land Trusts, and Participatory Budgeting

Labor Organizing in Higher Education

Decolonization and the Law
3) PSCI 413/414 Moot Court courses - great training for law school!
In Fall 2023, the Department of Politics will once again be offering Moot Court, and now in a two-class format: PSCI 413 Moot Court and PSCI 414 Moot Court Competition. There is a listed prerequisite. However, if you would like to take the class, but have not taken either of the prerequisite classes, please email me (Dr. Joice Chang; jyc85@humboldt.edu) and express your interest, and I can give you a permission number to add the course. 
For Political Science majors, this class will fulfill the experiential requirement for the major. 
Here is a link to a championship round of the American Moot Court Association national tournament
.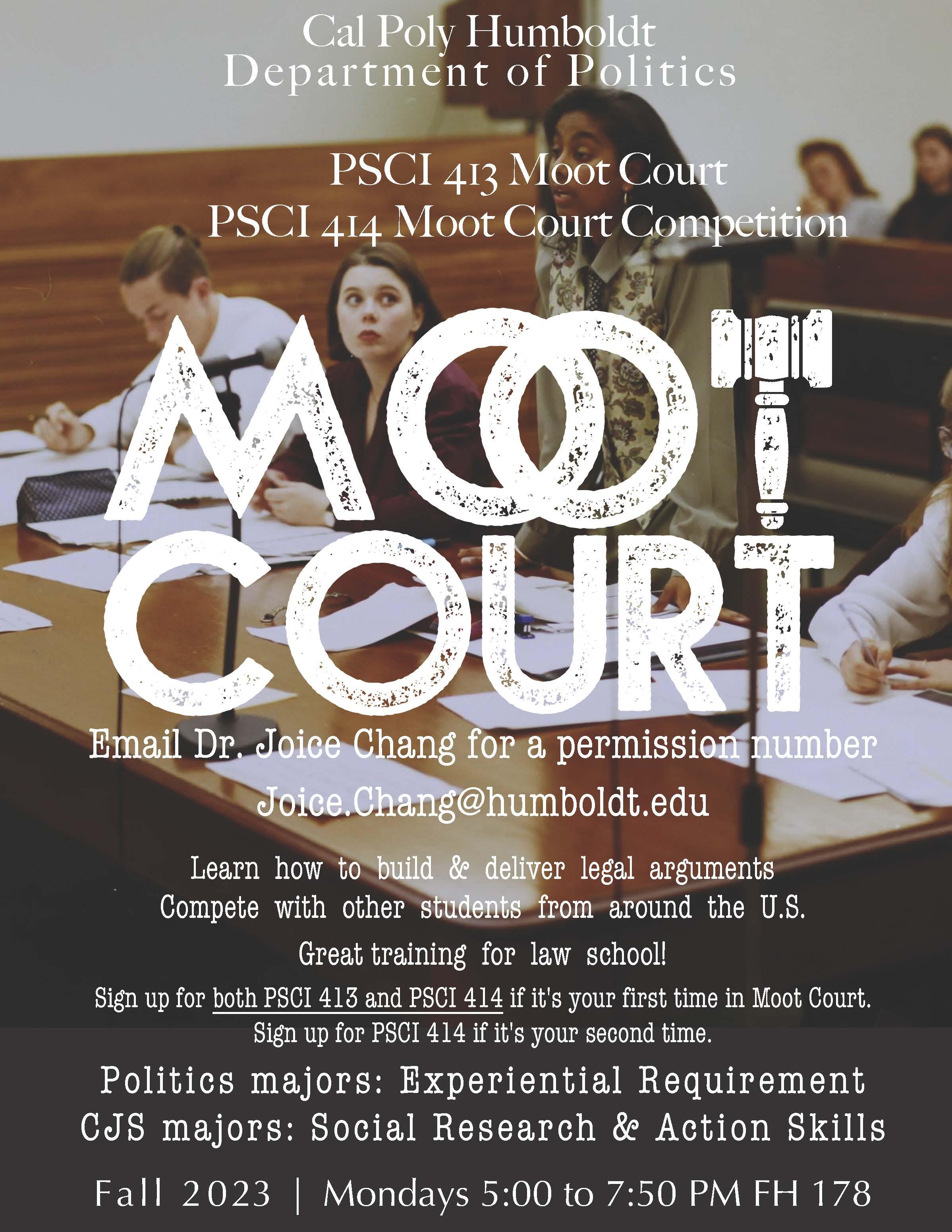 4) College of Arts, Humanities & Social Sciences newsletter
Anthropology Research Symposium, April 20

Toyon Multilingual Literary Magazine launch party, April 20

10th annual Hip Hop Conference: 50 Years of Hip Hop, April 20-22

Philosophy Forum keynote by intersectional environmentalist Pattie Gonia, April 26
5) Beyond Humboldt Skillshops
The Academic and Career Advising Center (ACAC) is pleased to be offering a series of upcoming skillshops to help prepare students for life and career beyond Cal Poly Humboldt:  
6) CCAT cap and gown rentals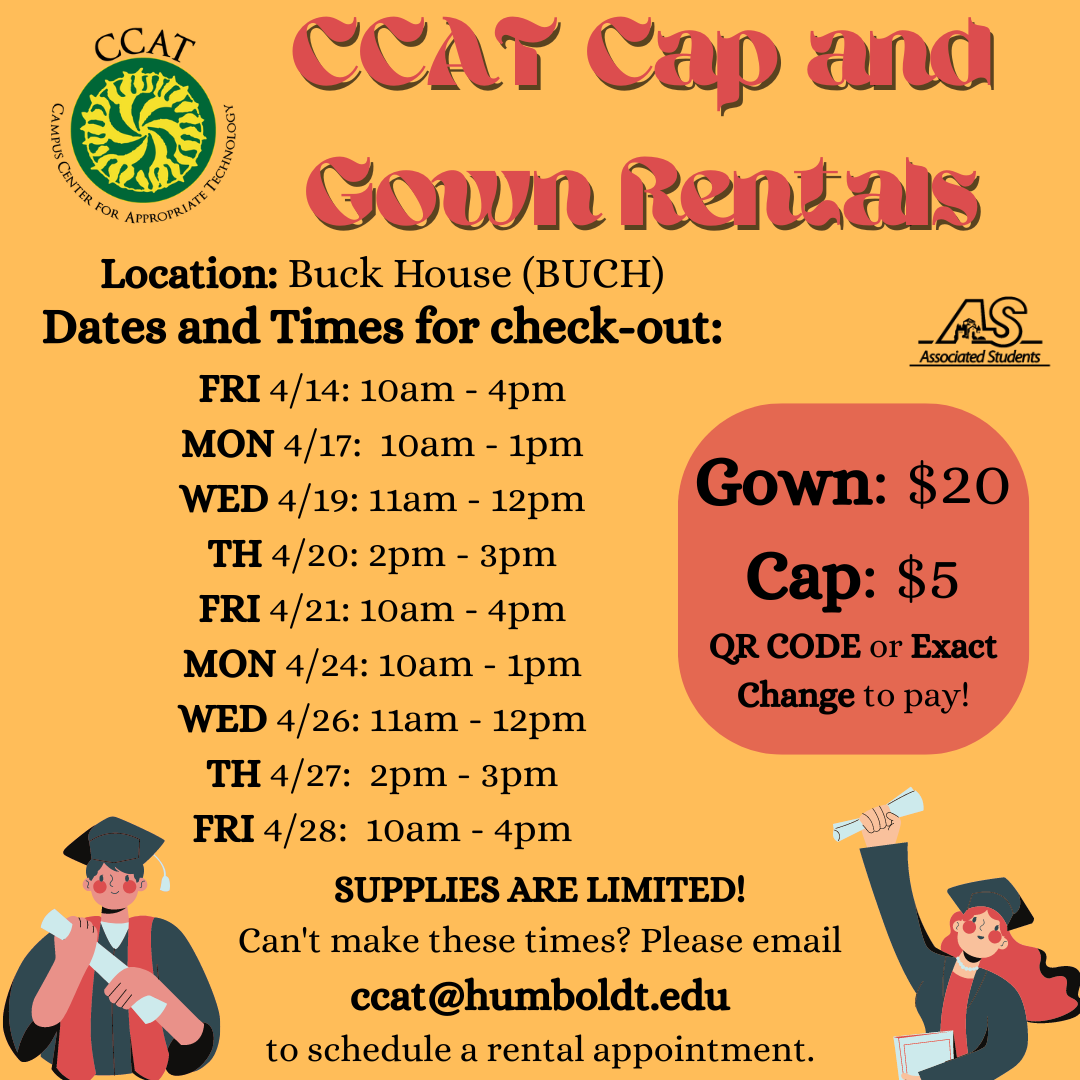 7) Decolonizing Sustainability Speaker Series, April 19
Active registration link 
here
.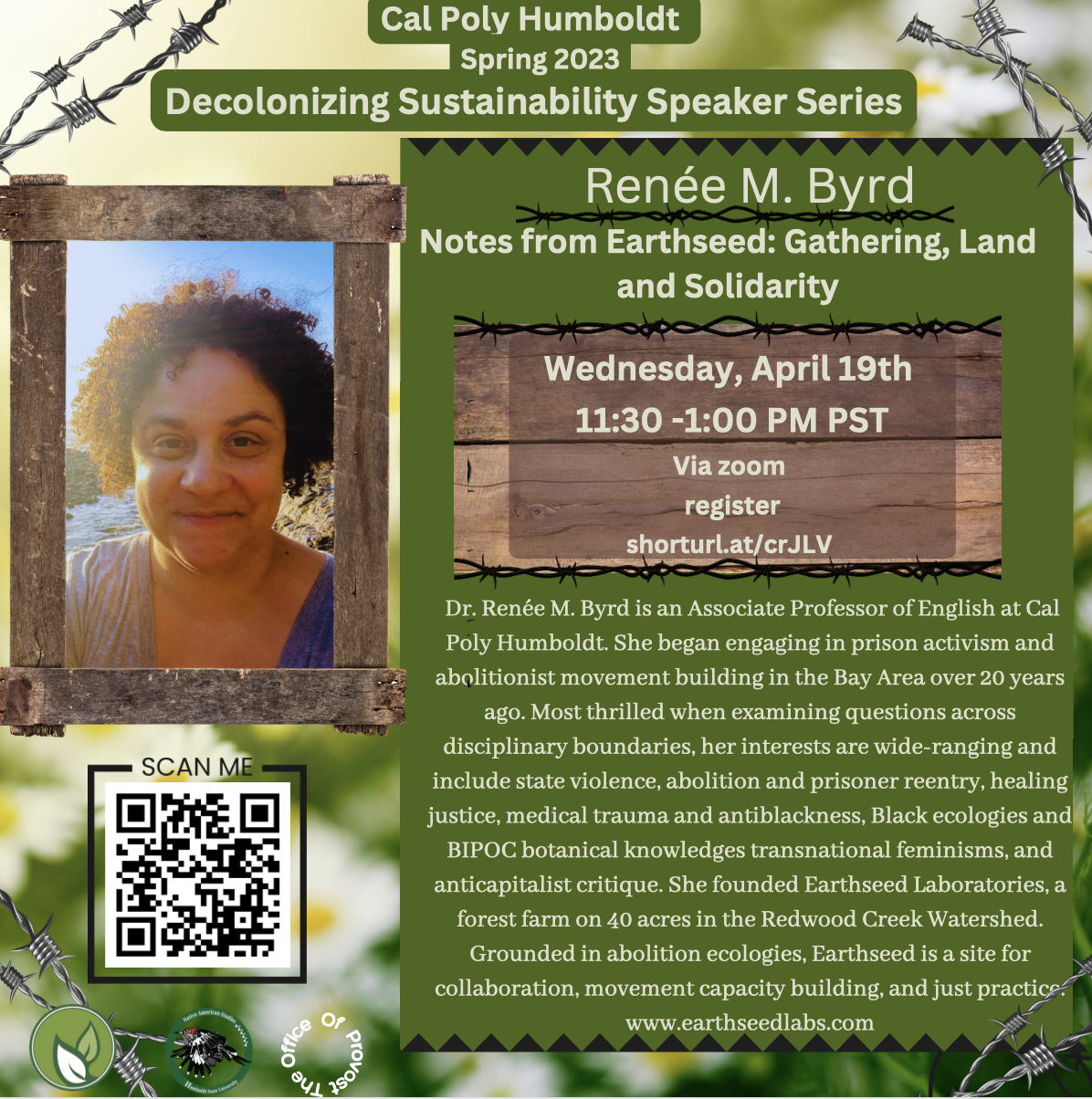 8) On-campus visit from Coalition for Humane Immigrant Rights of Los Angeles
The 
Coalition for Humane Immigrant Rights of Los Angeles
, also known as CHIRLA, will be having an on-campus visit next week. Through their time at Cal Poly Humboldt, they will be offering in-person consultations to anyone interested. These consultations will take place Thursday, April 20, and Friday, April 21, from 1:30-5 p.m. at the Hadley House #56. If you are interested and wish to schedule a consultation, call the EOP Front Desk at (707) 826-4781.
Apart from consultations they will also be offering an
 Information Session on Friday, April 21st @ 9 a.m. at Siemens Hall 117
. So if you are interested in learning about CHIRLA and/or have any comments, questions, or concerns this is definitely a great opportunity.  Persons who wish to request disability-related accommodations should contact Tania at (707) 826-5190, or email at 
tem21@humboldt.edu
 as soon as possible.
9) "How News Media Cover Cannabis," April 20
This event is produced in partnership with Cal Poly Humboldt. A panel of journalists, media professors and cannabis studies experts, moderated by CalMatters CEO Neil Chase, explores and critiques media coverage of cannabis-related stories. Telling the stories of regulated and unregulated cannabis provides an entry point for a larger discussion of the role of journalism in a democratic society. A networking session with a complementary light lunch will take place from 11:30am – 12:30pm for attendees and panelists. Join us for a screening of "Tending the Garden" and a conversation with its filmmaker, Claire Weissbluth, after the panel. "Tending the Garden" is a journey through a year in the life of three family farms cultivating cannabis, food, and community in the pursuit of a regenerative future. Register to attend in person or virtually. See here for details.
10) "History of Cannabis Policy in the U.S., 1930s to Present," April 20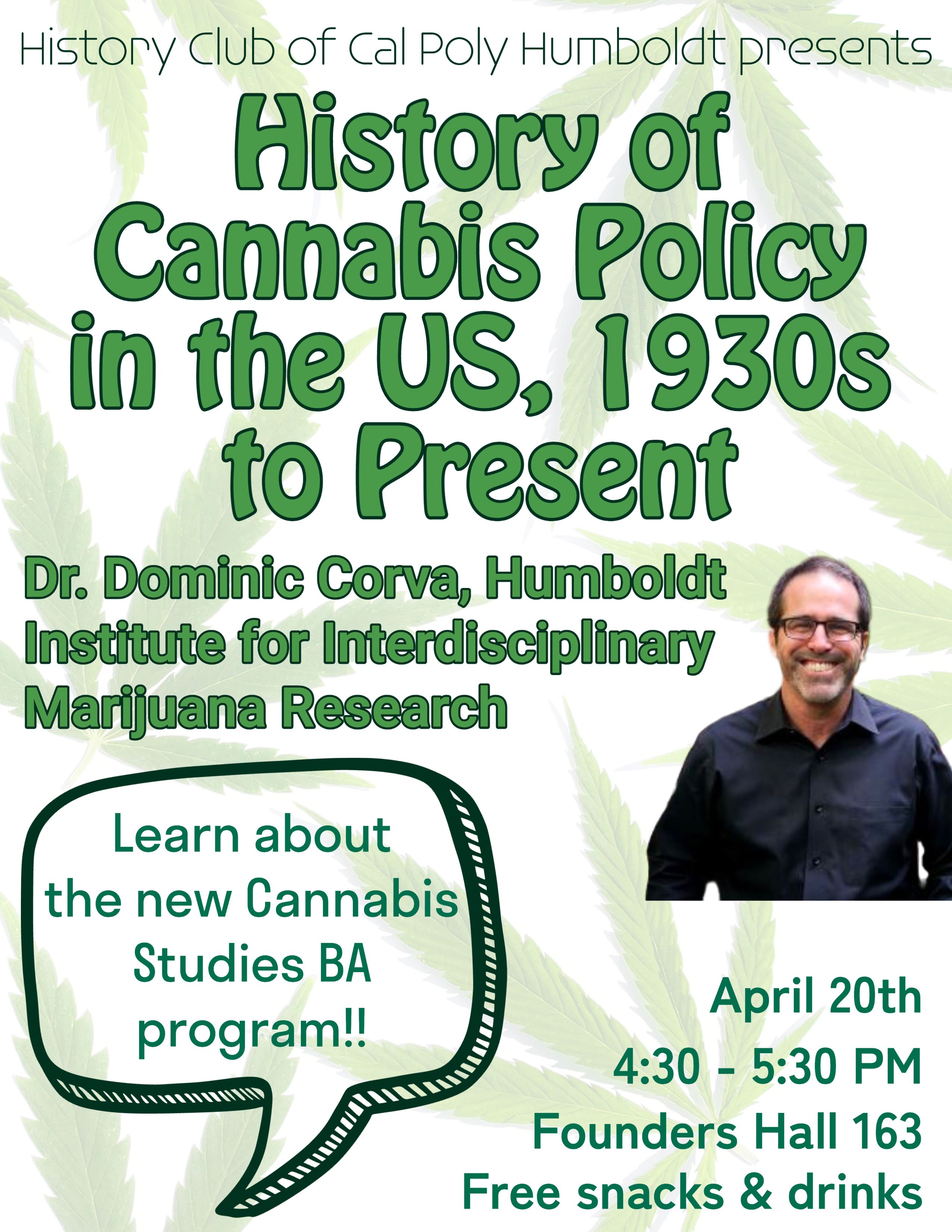 11) Water Protection Summer Internship
Save California Salmon is accepting applications for water protection interns. This is a paid internship for 10-25 hours a week with the potential to grow into a permanent position at the completion of approved projects. Some issues that Save California Salmon focuses on are: youth organizing and education, fisheries and flow restoration, rivers and ocean protection, fighting new reservoirs, pipelines and diversions, fighting chemical use and agriculture related pollution that impacts salmon and rivers, and supporting water protectors' efforts. See
here
for details. 
12) Barnum History Contest, deadline May 1
Active link 
here
.