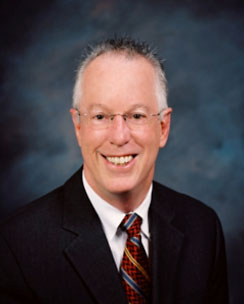 From 2003-2008, Michael was president of Citrus College in southern California. He has been a high school civics teacher, a professor of political science, and vice president and president of Fullerton College. He has been a leader and board member for numerous community organizations. He holds a Ph.D. in political science from the University of California, Riverside and has studied at Harvard University's Institute of Educational Management, the League for Innovation Executive Leadership Institute, and the American Association of Community College's President's Academy.
TELL US A BIT ABOUT YOUR JOURNEY AFTER LEAVING HSU
I taught high school civics after leaving Humboldt in 1969. Both my wife and I were intending to go to graduate school but the Vietnam War and the situation with the draft forced me to find a safe haven in teaching until I turned 26. Along the way I completed my masters at UC-Riverside with an emphasis in Latin American studies and comparative politics. I then entered the Ph.D. program with an emphasis in public policy. As I was completing my dissertation I landed a tenure track job at Chaffey College and began my teaching career at a community college in 1976. Community college administration is about budgets, personnel, planning, fund raising, facilities and many other things that are far removed from political science, but my studies in policy formation were a great basis for what I have done since becoming a dean in 1992. I just retired from Citrus College and have relocated to Portland, Oregon.
WHAT ADVICE DO YOU HAVE FOR CURRENT UNDERGRADS? WHAT DO YOU WISH YOU KNEW WHEN YOU WERE AN UNDERGRADUATE?
I struggled with my two semesters of Political Theory with Dr. Bohlman and always felt that the students in the class who had more world experience were better suited for the dialogues that he held with the class. If I had it to do over again I would retake that year of theory and I'm sure be a better student.
DO YOU HAVE ANY MEMORABLE EXPERIENCES FROM YOUR POLITICAL SCIENCE MAJOR THAT YOU'D LIKE TO SHARE?
As an undergraduate at Humboldt I was active in student government and several campus wide committees. I also participated on speech and debate and traveled with the forensics squad for all four years. The annual topics for debate were always stimulating and the opportunity to compete against debate teams from major northwest universities like OSU and U of O were highlights of my undergraduate years. I received the Man of the Year award in 1968 and was named to Green and Gold Key. I don't even know if those awards exist anymore but it was a great four years. I enjoyed my political science classes; they were all taught in Founder's Hall. Dr. Smultea taught international relations and we participated in the Model UN. Since we were a new college joining a well-established Model UN, Humboldt was assigned Upper Volta as our country. The class spent a lot of time researching French West Africa before attending the Model UN in Seattle at the University of Washington.
Anything Else?
Both my wife and I hold a deep affection for Humboldt and still stay in touch with many of the friends that we made at Humboldt 40 years ago.