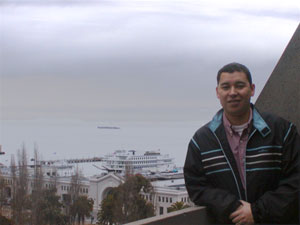 Manolo is Deputy Director for the State of California Office of the Insurance Advisor. He was previously appointed as special assistant to the director for the Office. He has also served as assistant to Governor Schwarzenegger and was a California Executive Fellow in the Governor's Office of Cabinet Affairs from 2005 to 2006. At Humboldt, he served as chair of the California State Student Association, Associated Students Vice President for Student Affairs, and completed two terms as the chair of the University Center Board of Directors.
TELL US A BIT ABOUT YOUR JOURNEY AFTER LEAVING HSU
Life after HSU has been an interesting ride so far. Upon graduation, I was lucky enough to secure a placement as an Executive Fellow through the Center for California Studies in Sacramento. I was placed in the Governor's Office of Cabinet Affairs where I worked primarily on Business, Transportation and Housing issues along with health and general government policy. It was during my time as an Executive Fellow that I was asked to stay on a full-time staff in the Governor's personal office. Working in the so-called "Private Office" was quite an experience as I was exposed to an incredible amount of high-level public policy that was taking shape literally before my eyes. I was able to meet President Vicente Fox of Mexico, I was present for the final negotiations over AB 32, the Global Warming Solutions Act of 2006, and I witnessed the legislative passage of the Strategic Growth Initiative which became Propositions 1A – 1D, which will be rebuilding California's infrastructure for the next 10-20 years.
WHAT EXCITES YOU MOST ABOUT YOUR WORK?
I think what I most enjoy about my work is the dynamic nature of Sacramento. Whether you are Republican or Democrat, business or labor, arguing healthcare or prisons or education or insurance, it is an inescapable fact that people here are highly motivated to work in public policy. Clearly, it doesn't always work out for every stakeholder, but that's the nature of politics, and it is refreshing to see so many people working diligently on issues that affect our state. I also think that while "networking" is an overused catch phrase, true relationship building is probably the best part of my job. I work with consumer advocates, the Department of Insurance, and the insurance industry on a myriad of issues that affect just about every Californian in one way or another. In making these connections, I have met some amazing and talented people that have enriched my job skills.
WHAT ADVICE DO YOU HAVE FOR CURRENT UNDERGRADS? WHAT DO YOU WISH YOU KNEW WHEN YOU WERE AN UNDERGRADUATE?
If I was to give advice to an undergrad at HSU, I would tell them to not underestimate the value of an internship or other co-curricular activity. I think this is extremely important for two main reasons. First, I believe that working outside of the classroom during your college career is essential to create balance in your life and to develop the stamina that it's going to take to work 40+ hours a week in the "real world." Second, I cannot stress enough how much better prepared you will be to jump into the job market if you have some real work experience under your belt. I have watched many friends struggle with life after college and I believe it's in large part because they weren't truly prepared. Internships and other work experience will make you a better employee, more analytical, thoughtful and deliberate in your work product, and also will prove to potential employers that you have the drive to succeed. My bottom line advice is that you should enjoy the Humboldt State experience for what its worth, do well and attend every Political Science class because – and this is important – you will not have the time to study abstract political theories once you're working full-time. And finally, remember that life is full of choices and the more you open yourself up to new experiences (internships, volunteering, employment) the more likely you are to meet someone or something that piques your interest that will open up a path for your future career.