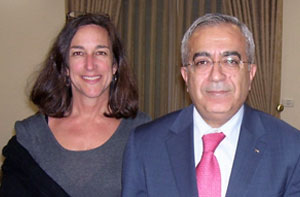 Leah is founder and director of The Compassionate Listening Project. She is internationally recognized as a leader in Jewish-Palestinian reconciliation. She has led numerous training delegations to Israel and Palestine, as well as Jordan, Syria, and Lebanon; she speaks and writes about Middle East peace-building, and has produced documentaries about the conflict, including Children of Abraham and Crossing the Lines. In 2002, she co-founded the Jewish-German Compassionate Listening Project. Her work has been profiled in numerous books and articles, including Gary Zukav's Soul Stories, and Peace, Justice and Jews: Reclaiming Our Tradition. Leah is a 2003 recipient of the Yoga Journal's Karma Yoga Award. She holds a masters degree in Public Policy from the University of Washington.
TELL US A BIT ABOUT YOUR JOURNEY AFTER LEAVING HSU
During my last year at HSU, I studied abroad at the Hebrew University in Jerusalem, pursuing my passion for languages and Middle East politics. It was an intense year that brought me face to face with life and death issues in ways I could never have imagined from my quiet life on the redwood coast. Israel invaded Lebanon the week I arrived and some of my classmates never came home from the front. I was fortunate to have courses taught by Israeli political leaders and historians, and I became active in Jewish-Palestinian reconciliation efforts – a path that I've been on ever since.
After graduating from HSU, I completed four years of graduate work at the University of Washington. I was generously supported with Foreign Language Area Studies fellowships (federal government grants) for Arabic language study. 
I received an internship to work in the Political Department of the U.S. Embassy, in Cairo, Egypt, but made the difficult decision to turn it down. I had always worked at the grassroots level as a community activist, beginning with my student days at HSU, and was very drawn to human rights work. 
I put my Public Administration skills to work for County government in Seattle for several years as a recycling planner, until I mustered up my courage and founded a non-profit organization called Mid-East Citizen Diplomacy. I brought American citizens to Israel and Palestine for cultural immersion programs and to meet people on all sides of the conflict. 
Eventually, my work began to focus primarily on conflict resolution and reconciliation and the organization evolved into "The Compassionate Listening Project." I, along with our team of trainers, now teach Compassionate Listening as a tool for conflict resolution and peace-building all over the world – in schools, organizations, congregations, mediation centers, and even to elected officials. 
I've produced four films and we are respected as one of the oldest Citizen Diplomacy organizations working in Israel and Palestine. 
WHAT EXCITES YOU MOST ABOUT YOUR WORK?
I feel excited to work on the front lines of peace-building and to be introducing new models that are helping people all over the world – from families to peace leaders. Some of my most memorable work has been Jewish-German reconciliation – working with children and grandchildren of both victims and perpetrators of the Holocaust. 
WHAT ADVICE DO YOU HAVE FOR CURRENT UNDERGRADS? WHAT DO YOU WISH YOU KNEW WHEN YOU WERE AN UNDERGRADUATE?
seek as many volunteer and internship opportunities as possible before you graduate. Non-profit organizations are usually happy to have volunteers, and it's good to get as much experience as possible. It will also help with applications for graduate school and jobs.
Look for people at

 

HSU

 

and in the surrounding community to mentor you. There are remarkable people around you – talk with them and ask them for their thoughts and guidance.
Know your resources – check out programs and internships abroad. There are many opportunities to combine academics with travel.
If you are interested in graduate studies with an international focus, be aware that there are great fellowships for integrating language study into your graduate work. Check with graduate schools to see if they have

 

FLAS

 

fellowships.
Follow your heart! Allow your interests and passions to guide you and fuel your direction in life.
Anything Else?
I arrived at HSU in 1977 and instantly fell in love with the college, the land and the people. My deep affection continues to this day; Humboldt County remains one of my favorite places to visit.