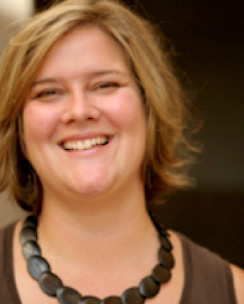 Laura is the General Manager for the Sacramento region of the Charter Schools Association. Previously, she was the Director of Governmental Affairs for the California State Student Association.
TELL US A BIT ABOUT YOUR JOURNEY AFTER LEAVING HSU
When I graduated in 2001, I moved to Sacramento with an acquaintance I'd made through Associated Students (AS). I knew I wanted to work in California policy and politics. 
I was determined to build a career that was related to my undergraduate degree. I had applied to each of the Capitol Fellows program, and while I did get an interview, I bombed it and was rejected. I took a horrible job as a booking agent at 'talent agency' because it paid well enough. But more importantly, I worked a late afternoon shift that allowed me to intern in the morning (for free) at the state capitol for Assembly Member Virginia Strom Martin, who represented the 1st Assembly District at the time. I had volunteered in her Eureka office while at HSU, so they didn't mind me bumbling around the capitol office much. The chief of staff was very kind, and I met a handful of people that I still see today. 
But there were no paid positions available in the Assembly for me, so my job search continued: I contacted every HSU alum I knew in Sacramento – mostly through Associated Students. In the end, it was my commitment to Associated Students as an undergraduate that lead to my career in California education policy. I was hired by the California State Student Association (CSSA) as their Director of Governmental Relations (http://www.csustudents.org). I served in that position for five and a half years. 
WHAT EXCITES YOU MOST ABOUT YOUR WORK?
I enjoy winning one for the greater good! With CSSA, I represented the student perspective on higher education policy in the legislature: I worked with CSU student leaders to fight for tuition freezes, lower text book prices, and increased financial aid. As you know, when the state economy takes a downturn, student fees go up. My last year with CSSA, we were able to freeze student fees and the governor signed our sponsored legislation to expand the Cal Grant program for older students. That felt amazing. 
In 2007, I left CSSA to join the California Charter Schools Association (http://www.myschool.org) as the Sacramento Regional General Manager. As a higher education advocate, I saw the achievement gap first hand; the difference between low-income and minority students and their more affluent counterparts as measured by state test scores, graduation rates, etc. An unacceptable number of kids graduate from K-12 public schools in California unprepared to be successful in college, work, and life. It was an easy transition to work for the charter public school reform movement. Currently there are over 680 charter public schools in California, serving over 240,000 students – which is awesome considering that the legislature only approved the charter law in 1992.
Right now, I'm energized and excited about working for a larger non-profit on public school reform, and working "in the field" instead of the state capitol. The Charter Schools Association is a larger organization, with greater resources, and a stronger membership base. Instead of lobbying the state legislature, I'm advocating for charter schools in front of school boards and county offices of education throughout north east California. I have the opportunity to see how these schools will make lasting change for individuals, families and communities. Visiting charter schools, meeting with parents, kids, teachers, and charter leaders is incredibly inspiring and exciting!
WHAT ADVICE DO YOU HAVE FOR CURRENT UNDERGRADS? WHAT DO YOU WISH YOU KNEW WHEN YOU WERE AN UNDERGRADUATE?
Take advantage of everything the university has to offer. If you're just going to school, work, and home you are really missing out – and missing an opportunity to make contacts and network. 
Join a club (I was in Forensics, Lobby Corps, and Model Arab League).
Run for student government or get appointed to an Associated Students committee (I started with student voter registration committee, ran and lost for a position on the AS board, and was eventually appointed to an executive position).
Intern with some of the amazing community based organizations, non-profits, or government agencies in Humboldt County.
Work somewhere relevant. I was a Community Service Officer for the Arcata Police Department part-time for three years, which gave me a solid paycheck, as well as a glimpse into the way city government works.
DO YOU HAVE ANY MEMORABLE EXPERIENCES FROM YOUR POLITICAL SCIENCE MAJOR THAT YOU'D LIKE TO SHARE?
It was always great to run into Dr. John Travis, my California Government professor, in Sacramento in his role as president of the California Faculty Association. He's not just teaching California Government, he's in it! 
I have a wonderful memory of being one of three students in Professor Daniels' Western Water Politics class. Cutting class was impossible, but with state budget cuts, there is no way a section with 3 students wouldn't be canceled today.
I interviewed for a position with a national public interest group a few years ago, and used my understanding of John Stuart Mill's Utilitarianism in my responses. I didn't get the job, but I did tip my hat to Professor Meyer for schooling me in political theory. 
Anything Else?
If you're moving to Sacramento, or want to talk about the variety of careers in government, politics, or policy, please feel free to drop me an email.