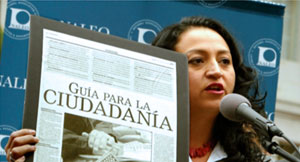 Laura is community affairs manager for La Opinión, the nation's largest Spanish language daily newspaper.
TELL US A BIT ABOUT YOUR JOURNEY AFTER LEAVING HSU
Majoring in political science has truly opened many doors for me. I wasn't sure what I would focus on, but knew that it would always be about social justice. I started my first job, with a non-profit organization, working on the implementation of the federal welfare reform law for the State of California. There I also worked with homeless women and immigrant women. I then went on to work on state and federal laws to benefit legal and undocumented immigrants. We secured the passage of the state law, AB 540, and created some programs for legal immigrants. The author of AB 540 then brought me on to run his district office in Southeast Los Angeles. We did amazing work… construction of schools, fairs, trainings, etc. As he termed out, so did my term with the state. I found myself as Chief of Staff in the office of the Los Angeles Unified School District's Board President. Working on education policy and allocating bond money was my primary focus. As the Board member moved on to the Los Angeles City Council, I applied and became the Community Affairs Manager for La Opinión Newspaper, the largest Spanish language newspaper in the country. I have taken on many more responsibilities since I was hired. I have gained skills in marketing, creative design and sales. All in all, the ability to be open to new and creative experience has allowed me to grow and gain many skills. I just recently created my own firm called LB Consulting. I consult with non-profits, do event planning and coordination, organize campaigns and engage in public relations.
WHAT EXCITES YOU MOST ABOUT YOUR WORK?
I have always been driven to work on social justice issues and give back the community. I have been very fortunate to have applied my degree to serving the community. I have worked in the non-profit sector, the state, the school district (LAUSD) and now corporate and in all these sectors have continued to work on social justice issues. To be able to work with dignity and for a worthy cause is always exciting.
WHAT ADVICE DO YOU HAVE FOR CURRENT UNDERGRADS? WHAT DO YOU WISH YOU KNEW WHEN YOU WERE AN UNDERGRADUATE?
I do a lot of public speaking now and one thing I tell the audience is to think creatively. We are sometimes taught to think in a box and we cannot survive with this type of thinking… Think about the many ways in which you can link your major to benefit not only yourself but the larger cause. For the first years following graduation you should act like a sponge…open to everything, listening and thinking creatively how this experience will advance you in your next phase. I have done it all… because I was open to the experience and I didn't limit myself to a predefined idea of how to use my major.
DO YOU HAVE ANY MEMORABLE EXPERIENCES FROM YOUR POLITICAL SCIENCE MAJOR THAT YOU'D LIKE TO SHARE?
I was on academic probation my first year. I was taught to go to college but not how to survive or what it all really meant. I was very fortunate to have attended HSU and found some truly caring people — who cared not only about what they taught but about the world as a whole. This close one-on-one connection to professors, meeting at professors' homes, and working with peers that were passionate about political science, helped me succeed then and now. I am very proud of the education I received from HSU.