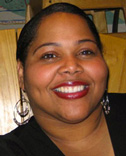 For the past decade, Kellie has served as a state prosecutor in Oregon. Currently she serves as Deputy District Attorney for Multnomah County, specializing in prosecution of gang cases. She is also an instructor for the National College of District Attorneys in Columbia, South Carolina. In addition, she is the president of Oregon Women Lawyers, serves on the advisory committee for the Oregon Girl Scouts' Beyond Bars program, and recently elected to the Oregon State Bar Board of Governors.
TELL US A BIT ABOUT YOUR JOURNEY AFTER LEAVING HSU
After leaving HSU I attended law school at University of Oregon in Eugene, Oregon. I am originally from Compton, California and never heard of Eugene, Oregon. Nonetheless, I knew I wanted to go to law school and several months before taking the LSAT, I asked Sam Sonntag for her advice and I remember she said if I enjoyed my experience at Humboldt, Eugene was very similar just a little bigger. Eugene was a great environment where I could buckle down and just concentrate on my law degree. My interest as a political science major at HSUhad an international human rights focus. I never thought that I would go into criminal law but I quickly learned "international law" was really not an area that I could make a living in while I finished up law school, particularly since I was not interested in business transactions. One spring semester, I asked a fellow classmate what kind of job in the law I could do. In law school, by the second year it is important to get work in the profession. I was intimidated by the notion because I had tried to avoid a clerkship, in fact, the summer before I had taught the bill of rights to students in a talented and gifted program at University of Oregon. I knew that it was time for me to get my feet wet and that I could not continue getting law related jobs without actually getting clerkship experience. My classmate suggested I enter a trial clinic since I enjoyed doing Forensics and competed at HSU. I got into the prosecution clinic and here I am some 12 years later a prosecutor in the gang unit of Multnomah County District Attorney's office.
WHAT EXCITES YOU MOST ABOUT YOUR WORK?
Even in college I was most interested in the human condition. I was from an inner city, low income area where advocates for our cause were few and far between. And yes, even in my community our cause included law, order and justice. Nonetheless, I was apprehensive of a career in law enforcement because national statistics on crime were a painful reminder of the challenges that face people of color in the justice system. What I learned right away is that an advocate on the inside can help. As an advocate what I fell in love with was the trial work. The power to persuade 12 unknown people is fascinating. The heat of the trial and the fight of the just really became a different but similar avenue for me to work with human rights issues, but for victims.
WHAT ADVICE DO YOU HAVE FOR CURRENT UNDERGRADS? WHAT DO YOU WISH YOU KNEW WHEN YOU WERE AN UNDERGRADUATE?
I wish I would have taken more time to really explore my educational experience. In the sixth grade I decided I wanted to be a lawyer. I had no clue what that really meant or entailed but it made my family happy when I said it so I stuck to it. Now as a practitioner, I know the law was my calling. However, knowing what I know now, I would have taken more time to explore the journey rather than treating my education as a means to an end. Don't get me wrong, I loved my HSU experience and believe it shaped me tremendously but I would have cared less about the grade and taking entrance exams and spent more time learning for knowledge and wisdom's sake.
DO YOU HAVE ANY MEMORABLE EXPERIENCES FROM YOUR POLITICAL SCIENCE MAJOR THAT YOU'D LIKE TO SHARE?
I took a class on women and the third world with Professor Sonntag. As then I still consider her a great mentor. In class we were talking about the impact of slavery in some African countries and I recall, (probably ironic coming from a black woman) taking the position that slavery did include some benefits. This did not go over well with the class. Nonetheless, my position was that these captured and tortured people learned the greatest art of survival in the midst of horrendous obstacles. They learned to read, to speak a foreign language, use and grow food items and products that were not indigenous to their countries. They learned and adapted at speeds that impacted generations, including my generation. I feel if it were not for those people who learned in the face of great adversity to survive and carry on that I would not be where I am today. I don't know if I changed many minds but what I do remember is Professor Sonntag respecting my position and even though it appeared she disagreed ,created a class environment where I was able to express a not so popular opinion and disagree with the idea — not the person expressing the idea.
Anything Else?
HSU provided me with an opportunity to grow not only as a learned person but a person. I met and befriended people from all walks of life that I would have never met in Compton, California. The professors that I had the pleasure of learning from were all open to sharing all that they knew and when they did not, happily referred me to someone who did. My life's journey is not over and where the law takes me is an adventure that wakes me every morning. I look forward to the journey. Thank you for giving me an opportunity to share a few of my thoughts along the way.