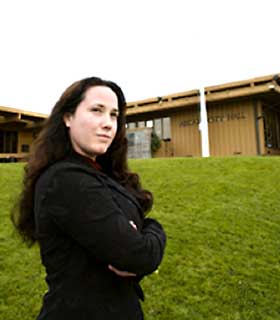 Harmony was elected to the Arcata City Council following her graduation in 2004. She has also served as Mayor. She is a program coordinator for the Mainstream Media Project.
TELL US A BIT ABOUT YOUR JOURNEY AFTER LEAVING HSU
When I graduated HSU, I thought I was on my way to Africa with the Peace Corps. A minor health issue kept me behind and I was urged by friends in Arcata to give my time and energy locally. I decided to run for City Council. 
In November of 2004, I was elected to a 4-year term at age 26. I was Vice Mayor in 2006 and Mayor of Arcata in 2007. I am also President of the Redwood Empire Division of the League of California Cities, a regional body that encompasses all Council members from Humboldt, Mendocino, Lake, Del Norte and a small part of Sonoma counties. I have served as a Liaison to Arcata Mainstreet and HSU's Associated Students and I have been a board member of Humboldt County Association of Governments (HCAOG) and Redwood Coast Energy Authority (RCEA). 
I also work for the Mainstream Media Project, a non-profit news service dedicated to expanding the discussion of various issues in the mainstream media. I am the Guests on Call Program Coordinator. In this capacity, I write media releases about foreign and domestic policies from environment to national security to equal access to opportunity to sustainable agriculture to U.S. foreign policy in the Middle East.
WHAT EXCITES YOU MOST ABOUT YOUR WORK?
When I decided to study political science, many people told me "you'll never use your degree in the real world." Ironically, I use my training in political science in my work with the Mainstream Media Project as well as the City Council. 
My work with the Mainstream Media Project keeps me on top of world events. I work with internationally recognized policy experts who are working on the ground to make change. Many of the groups I work with are directly involved in the political process in D.C. or at the United Nations. Through my education at HSU, I am well trained in comparative politics, American foreign policy, political theory and international relations. 
Working at the Mainstream Media Project and simultaneously on the City Council helps me to see how policies made on a larger scale affect local governments and communities. 
WHAT ADVICE DO YOU HAVE FOR CURRENT UNDERGRADS? WHAT DO YOU WISH YOU KNEW WHEN YOU WERE AN UNDERGRADUATE?
I say to current undergrads, don't let people make you doubt your ability to use your degree. There are many jobs that require a political science degree and it is very useful in the career world. Political science training is incredibly valuable. I can't tell you how many people I know that are completely out of the know when it comes to the political process or the background of various conflicts or the context of news we hear. 
Don't be afraid to try a few different things until you find what you want to do. There is always pressure on undergrads about "what they are going to do after they graduate." Finding what you like to do is the key to happiness. It can be like finding what you like to eat; you have to try a few foods first. 
Anything Else?
I greatly enjoyed studying with the professors at HSU who are personable and interesting. Going to Humboldt State University was fun and I miss having the luxury to really study issues in depth.