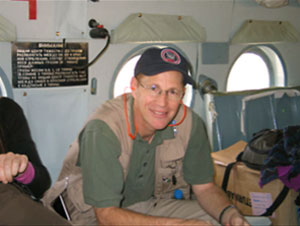 Gregory is Deputy Assistant Administrator, Bureau for Democracy, Conflict and Humanitarian Assistance, United States Agency for International Development. He has served in Kenya, Sudan, Ethiopia, Malawi, and Washington, DC. He holds a J.D. from Loyola Law School and a Masters of Public Administration from Harvard's Kennedy School of Government.
TELL US A BIT ABOUT YOUR JOURNEY AFTER LEAVING HSU
After I left HSU I went to law school. I knew at the time that I might not practice, but I went because I thought I could work in the public sector, and I didn't think I had the writing skills to do a Ph.D. in political science. I was fortunate to meet someone at the conclusion of my law studies who changed my life. He was one of the first people ever hired by the U.N., and had a long and distinguished career in international work. I helped him write his memoirs. When I finished that piece of work, I went to LA and practiced public interest law. But, I kept thinking about what my mentor had done, so I used his contacts to get myself an interview an international non-profit. I went to Uganda to work in the civil war doing humanitarian work. I did that for three years, returned to the States and practiced law (public defender), but was so attracted to international relief work that I returned to Harvard to do a Masters in Public Administration, and then shipped out to Africa. Other than a brief stint with UNHCR, I have done humanitarian relief work for the last 20 years, living many years in Africa and Asia, but most recently in Washington, and rising up the ranks of the bureaucracy. During my career I found that I had an aptitude for management, so gradually was called on to manage larger organizations (today my portfolio exceeds $2.5 billion). I also knew that I was capable of handling multiple issues at once without getting flustered, which is ideal for doing disaster assistance.
WHAT EXCITES YOU MOST ABOUT YOUR WORK?
I love the thrill of handling many issues at once while rendering service to those in need. I love to travel to remote and difficult places, and my job has always allowed me to do that. As I rose through the ranks, I have taken satisfaction in trying to be a thoroughly honest spokesperson for the government, trying to explain our positions, and even enjoying giving speeches or testifying in front of Congress. In short, I enjoy using my verbal skills to defend and explain our positions and programs.
WHAT ADVICE DO YOU HAVE FOR CURRENT UNDERGRADS? WHAT DO YOU WISH YOU KNEW WHEN YOU WERE AN UNDERGRADUATE?
I never had a plan, except that I knew I wanted to do public service. I wish I knew as an undergrad all the different options out there to use skills that I thought I had. Yes, I always had a big mouth, but that didn't mean I just had to be a lawyer. I can't really think of a professor who was a mentor, but I was lucky to meet someone who became a mentor. That was the key for me, so perhaps that is what professors can be for students.
DO YOU HAVE ANY MEMORABLE EXPERIENCES FROM YOUR POLITICAL SCIENCE MAJOR THAT YOU'D LIKE TO SHARE?
I have to confess: I loved my Marxism seminar. But that was natural, I suppose, since I spent a year out of high school living on a kibbutz. What I really liked was the give and take of ideas, and that has carried through my entire life.
Anything Else?
I was lucky to find a mentor who steered me to public service that satisfied my desire to travel and do good work. Awareness of my own skills helped me begin to find my way to more senior positions, but for the most part I was interested in the work so I simply sought interesting jobs in interesting places. At a certain point I knew that my skills could carry me above just being a technical officer. And my time at Harvard, coupled with skills from law school, further distinguished me from others. As for Humboldt, well, it was wonderful place to go to school. I loved the library, which introduced me to new books and ideas, so I still support it. But Humboldt also gave me plenty of scope to work hard and learn about many of the things that I did not know about growing up in a small town. I'm proud to be a lumberjack.