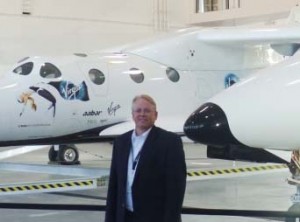 Bruce Jackson (1984) is Vice President for Trade Controls and Export Strategy at Virgin Galactic. Previously, he headed the Exports Practice for North America within JPMorgan's Trade Management Consulting group. He has worked with clients ranging from Silicon Valley startups and "mom and pop" manufacturers of specialized industrial components, to Fortune 100 corporations.
TELL US A BIT ABOUT YOUR JOURNEY AFTER LEAVING HSU
After graduating from HSU in 1984, I moved to Washington, DC, where I volunteered as an intern in Congressman Douglas Bosco's office. Eventually I landed a temp job in the Office of Export Administration within the International Trade Administration at the U.S. Commerce Department. One day, I got a call from a U.S. Embassy staffer in Stockholm looking for help getting Swedish companies that were reexporting U.S. origin products. I had studied abroad in Sweden in high school and in College (Cal State Intl Programs), and spoke Swedish. After assisting the embassy, I started getting calls from lots of Swedish companies with questions about export restrictions. After a few years of doing work on export controls first in the Department of Commerce and later with a private law firm, I got an offer from the electrical engineering company ABB to move to Germany and head their export compliance program. I moved to Germany in late 1989 three weeks after the Berlin Wall came down and ABB, like many companies, was eager to expand into Eastern Europe. My role had me directly involved with joint ventures in Poland, Czechoslovakia (later the Czech Republic) and Hungary I worked with our new businesses to help them implement their own compliance programs. Later in the mid-1990's, the fallout from the first Gulf War led to an increased focus on export controls affecting the Middle East and I got heavily involved in working on issues related to projects in countries subject to embargoes and sanctions. By the early 2000s, I was ready to return with my family to the States. I helped grow the export practice of a small consulting firm in Colorado. Although we were a small firm, through my connections in the industry we landed a number of large clients in a wide range of industries, from oil and gas, to silicon valley trailblazers, to aerospace defense firms. Eventually, that company was acquired by JPMorgan where I continued my consulting work until one of my former clients offered me a position that I could not refuse. That's how I wound up with Virgin Galactic.
WHAT EXCITES YOU MOST ABOUT YOUR WORK?
While the Virgin Group is a large company, Virgin Galactic is run very much like a start up. I think I was the 10th employee hired in the U.S., but we are growing fast. We're currently working with the State of New Mexico to develop commercial space tourism out of Spaceport America near Las Cruces, New Mexico. We also have a sister company, The Spaceship Company, in Mojave, California that is going to build the carrier aircraft and spaceships for our spaceline operation. We're at the cutting edge, and I tell my compliance professional colleagues that "I'm going where no compliance guy has gone before…". This means that there are some challenges. Its the first business of its kind. Federal regulators are cautious about some of the technologies involved. After all, space travel has historically been the purview of governments so having private companies provide launch services outside of a government program is something with which the regulators need to get comfortable. A big part of my job now is working to ensure that U.S. export laws protect national security interests while simultaneously encourage emerging technologies and innovation. Some day we hope to take our future success at Spaceport America and replicate it at spaceports around the world. In a sense, I've been doing the same work for a long time. But it's also always something new. I like being on the cutting edge: biotechnology, nanotechnology, commercial space tourism. I'm not an engineer. Political Science has served me really well. There were times that I thought about going to law school but then another great opportunity would come along and I couldn't turn it down. I've done it all with a bachelor's degree in political science from Humboldt State! It's been a great experience!
WHAT ADVICE DO YOU HAVE FOR CURRENT UNDERGRADS? WHAT DO YOU WISH YOU KNEW WHEN YOU WERE AN UNDERGRADUATE?
Probably the most important thing is to learn a foreign language. If you can learn something that's not as widely known, that's great. But pick a language that you like and become proficient in it. Along the same lines, study abroad. It's a great opportunity to look at the world from another angle. Remember that even classes that are unrelated to your major are relevant. In addition to the courses I took in my major at HSU, I took courses in astronomy, music appreciation, and so on. When you're sitting at a dinner party on Capitol Hill and a Senator or a high ranking White House staffer starts talking about their favorite composers, you can have a conversation. Pay attention in class! You never know when that kind of knowledge is going to be useful. Working on your written and oral communication skills. These are probably the most important skills you can have. Finally, remember that everything builds on personal relationships. You have to have the knowledge, but you also need the networking and the people skills to become successful.
DO YOU HAVE ANY MEMORABLE EXPERIENCES FROM YOUR POLITICAL SCIENCE MAJOR THAT YOU'D LIKE TO SHARE?
I was in Model UN for three years while I was at HSU. I remember doing the Security Council simulation during the Falkland War between Argentina and Great Britain. That was a lot of fun.